Meet Reshmi Cain, RMT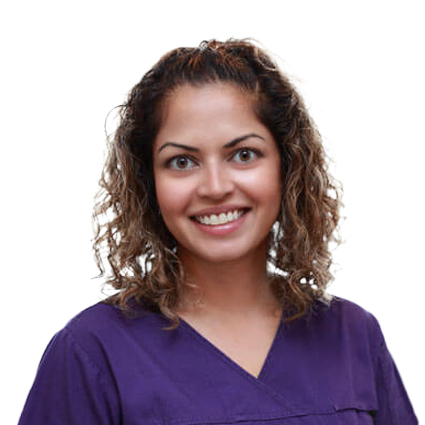 Reshmi's goal is to help people of all ages lead pain-free lives.
"As a child, I always enjoyed being an athlete. At the age of 12, I truly believed I was going to be the first girl in the NBA. After my growth spurt passed and still standing at 5'0″ I realized this dream may never be achieved."
She continued to play sports throughout her high school years. "My teammates would always ask me to give them massages as we were constantly injuring ourselves, and I thoroughly enjoyed helping them. Not knowing about massage as therapy, I decided to be a physiotherapist."
In Grade 11 Reshmi did a co-op placement with a physiotherapist. Here her interest in massage therapy was truly sparked. What initially attracted Reshmi to massage as an occupation was that she could use her hands to help improve the quality of people's lives.
Education Journey
Before becoming an RMT, Reshmi enrolled in the Kinesiology program at the University of Western Ontario. However, three months into the program she decided to chase her dreams. Reshmi took the rest of the year off serving tables at Jack Astor's saving money to pay for school. The following September she attended D'Arcy Lane Institute of Massage Therapy in London, Ontario.
Helping Patients Heal
Reshmi joined Village Wellness Clinic in 2002 and has expanded her skills working in our multi-disciplinary clinic. She has treated numerous conditions, including plantar fasciitis, headaches, frozen shoulder, tendonitis, carpal tunnel, and stroke patients to name a few.
I love my job. It is stress-free and I have the opportunity to help people all day long. Clients are happy to come and see me and they're happy when they leave. What more could I ask for?"
Types of Massage Offered
Lymphatic Drainage
Reshmi completed Dr. Vodder's Manual Lymphatic Drainage program in 2012. This technique helps to reduce swelling or edema.
Orthopedic
She is particularly passionate about helping those who have had surgery such as hip replacements and even cosmetic surgery. Orthopedic massage can help alleviate pain and accelerate recovery.
Prenatal
In 2008 Reshmi became a Doula/Labour Support Provider. This credential allows her to help her pregnant clients in the delivery room with massages, breathing, and relaxing techniques.
An Active and Healthy Family Life
Reshmi believes in leading a healthy lifestyle and does her best to practice what she preaches. She gets monthly massages and weekly chiropractic adjustments. Reshmi also takes daily supplements, maintains a well-balanced diet, and exercises 3-4 times a week. Traveling is one of her favorite things to do.
She also loves spending time with her young daughter. As a self-described modern-day Martha Stewart, Reshmi enjoys doing arts and crafts. This "organic mom" rarely eats out and enjoys baking healthy treats with her little one.
Call Now
Are you ready to begin your healing? Contact Village Wellness Clinic now to schedule your massage!

Reshmi Cain, RMT | (905) 471-5311