Meet Dr. Dilani Weerasekera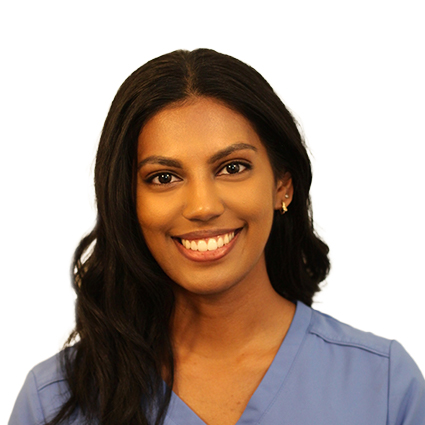 Dr. Dilani completed her Bachelor's degree in Kinesiology at the University of Toronto, followed by her pursuit of a Master's degree in Professional Kinesiology. During that time, she actively sought shadowing opportunities, which included experiences with physiotherapists, chiropractors, and also in hospital settings. During this period she began working at Village Wellness Clinic as a health assistant. Two years into Dr. Dilani's time at the practice, she applied to Canadian Memorial Chiropractic College, where she earned her Doctor of Chiropractic in 2023.
In addition to her degrees, Dr. Dilani is licensed in functional Western medical acupuncture. She also earned a BoneFit™ certificate through Osteoporosis Canada.
Dr. Dilani is an evidence-based chiropractor who is passionate about helping people make changes that can positively impact their overall health.
"Each person's body is unique, so treatments should be tailored to fit the needs, goals, and pace of every patient. I'm enthusiastic about helping patients reach their health potential."
Working With Different Patient Populations
During her intern year at the chiropractic college, Dr. Dilani dedicated her time to the CMCC Campus clinic, where she provided treatment to patients from special populations, including those who underwent surgery, geriatric individuals, and athletes.
While at the University of Toronto, she also worked with athletes, including the men's varsity rugby team. She performed field care work, such as taping. Dr. Dilani also worked with athletic therapists or helped provide emergency care.
Her interest in occupational wellness originates from her experiences at the Toronto Fire Services and Michael Garron Hospital's Occupational Health and Safety department, which she gained while pursuing her master's degree. Dr. Dilani's experience in high performance sports, occupational wellness, and chronic disease allows her to provide effective care for patients across the spectrum.
Finding Fulfillment Helping Others
For Dr. Dilani, it's highly fulfilling to work with patients and get to know them and their health goals. Another aspect of being a chiropractor that she enjoys is that it's not a sedentary job. She gets to move around and help people, which is incredibly rewarding.
Outside of the Practice
When she's not providing outstanding chiropractic care to her patients, Dr. Dilani enjoys digital art—particularly drawing on her iPad. She also likes running and kayaking here and there.
Get to know Dr. Dilani more by booking an appointment today!

Meet Dr. Dilani Weerasekera | (905) 471-5311