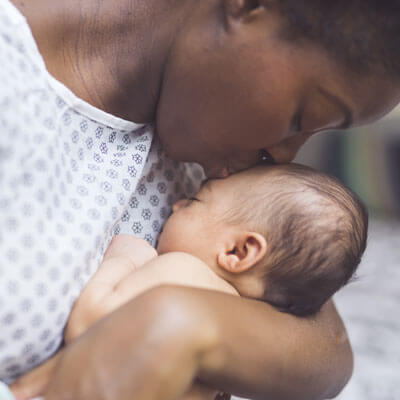 Doula and Labour Support
The Purpose of the Labour Support Person
…is to accompany the labouring woman (and her partner) in labour to help ensure a safe and satisfying birth experience.
Reshmi's Role as Your Doula
I am here to draw upon my knowledge and experience to provide massage therapy, physical comfort, and emotional support for you, my client.
I can communicate with other healthcare staff if needed to ensure that you have the information you need to make informed choices. I can provide reassurance for you and your partner, make suggestions for your increased comfort, and help with breathing, relaxation, positioning, massage therapy, and hydrotherapy techniques.
I prefer to meet with you (and your partner) at least once before the labour to become acquainted and to explore and discuss your priorities, and any fears or concerns you may have. We can plan how we might best work together.
At that time, we can discuss fees. The meeting does not obligate you to use my services, but if you do select me, I will want to become familiar with your birth plan, including your preferences regarding management options and pain medications. I would like to know your best ways of coping with pain and fatigue and how you and your partner envision working together.
To enable us to get to know each other better, scheduling one or more massage appointments before your labour may be helpful. As you get closer to your due date, we will want to be in touch by telephone.
I would appreciate you calling me when you think you are in labour, even if you do not need me at that time. Together, we can decide if I should meet you or wait for further change in your labour process. Depending on where you are giving birth, I may need an hour to get to you from the time you ask me to come.
We will decide where we will meet – at your home, at the hospital, or birthing centre. Except for extraordinary circumstances or your wishes, I will remain with you throughout your birth.
I can remain with you from 1 to 2 hours after birth, depending on your wishes. I will assist in any way to make you as comfortable as possible. When you and your family decide, I will depart to allow you quiet private time together. I am available for phone contact postpartum if you have any questions I can answer.
Perform any clinical tasks (Fetal heart checks, vaginal exams, etc.), I am with you to help ensure your physical and emotional comfort.
Make decisions for you – I may, however, be able to help you get the information necessary to make an informed decision. I can also remind you about your birth plan wishes.
Speak to the staff instead of you regarding matters of decision making
I will make every effort to provide the kind of service which has been outlined previously. Sometimes this is not possible (e.g. a rapid labour).
If the failure to attend your birth is due to my circumstances, there will be no charge for my services. If it is due to extenuating circumstances or your decisions not to have me attend your birth, then you will not be required to pay me.
If you request my services of massage therapy for part of your birthing experience, please refer to my regular massage fee schedule.
My fee to attend your birth from the time my presence is requested (contractions are 5 mins apart), until after the birth of your baby is $1,200.00 (includes HST). There is a $150.00 deposit for booking me as I only accept 1 delivery in a 4 week period. This deposit is non-refundable if you cancel my services within 4 weeks of your due date.
A post dated cheque is made for the balance of $1050.00 which is given 1 month before your due date. The cheque will not be cashed until the service is provided and will be invoiced accordingly.
Learn More Today
I am pleased to offer my Doula and Labour Support services to expectant parents in the Markham community. If you would like to know more about my services, please contact Village Wellness Clinic office today to schedule a time to meet with me.
CONTACT US

Doula and Labour Support Markham, Markham Village ON | (905) 471-5311